£12m funding for Jodrell Bank visitor centre project
(blank)
22-May-15
Jodrell Bank observatory in Cheshire has been awarded £12m of Heritage Lottery funding to turn the Grade-I listed site into a visitor attraction.
The cash will be used to develop the site around the radio telescope and build a visitor centre focused on space exploration and modern astrophysics.
The Lovell telescope in Cheshire, part of the University of Manchester, is a Grade-I Listed building.
The project now has up to two years to submit fully developed proposals to secure a firm award.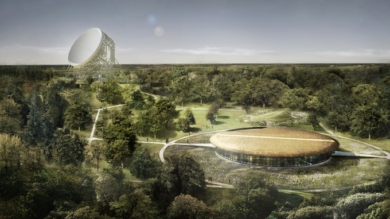 Jodrell Bank is an internationally important place in the heritage of astronomy.
It is the only site remaining in the world that shows the whole history of the development of radio astronomy – the first step towards the field of modern astrophysics that we know today.
Its story includes revolutionary scientific discoveries, amazing feats of post-war engineering, the dawn of the Space Age and the creation of the Grade-1 listed Lovell Telescope, an icon of UK science and engineering.
Dr Teresa Anderson, Director of the Jodrell Bank Discovery Centre said: "We are absolutely delighted that the Heritage Lottery Fund is supporting the 'First Light' project.
"Jodrell Bank epitomises a 'can do' approach to science and engineering and this funding will allow us to tell the story of all the amazing men and women who – sometimes, with help from younger family members – created the Observatory from scratch.
"Our mission is to inspire the scientists of the future, key to which is understanding that scientific discovery needs grit and determination, just as much as it needs creativity and inspiration!"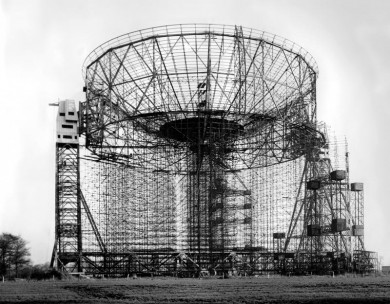 The Lovell Telescope under construction
Aaron Morby | Wed 20th May | Construction Enquirer
Previous Articles