37-floor London Nine Elms tower approved
(blank)
13-Nov-14
37-floor London Nine Elms tower approved
Aaron Morby | Thu 13th November | 7:00
Joint developers Network Rail and K2 property have gained planning for a mainly residential tower in Vauxhall, south London.
The development has been designed by Stephen Davy Peter Smith Architects and will contain 291 homes, ground floor shops and around 14,000 sq ft of offices.
The 12-20 Wyvil Road scheme will consist of two connected buildings forming the central tower structure on a podium building.
The taller building will rise to 37 storeys and its sister up to 33 storeys. Each will be broken with mid-rise cut-away sky gardens.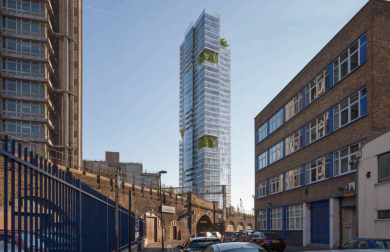 The site is located within the London Borough of Lambeth and within the Vauxhall Nine Elms Battersea Opportunity Area where it will make up a cluster of high-rise buildings.
Aaron Morby | Thu 13th November | Construction Enquirer
Previous Articles