£400m Kingston shopping centre revamp unveiled
(blank)
30-Oct-15
Plans have been unveiled to regenerate Kingston town centre's Eden Walk shopping centre in West London.
Joint owners British Land and Universities Superannuation Scheme have unveiled fresh plans for public consultation before submitting the mixed-use scheme to the local council within the next few weeks.
They estimate the scheme will see £400m invested in creating new shops and restaurants, a new cinema on top of a refurbished multi-storey car park and 400 flats in surrounding buildings.
New buildings will vary in height from five-storeys to ten and one taller building of 16 storeys.
Nearly 700 construction jobs will be sustained during construction, supported by a training, skills and apprenticeship programme.
It is hoped Kingston council will grant permission early next year, allowing a start on the scheme in the early summer.
Existing shopping centre and multi-storey car park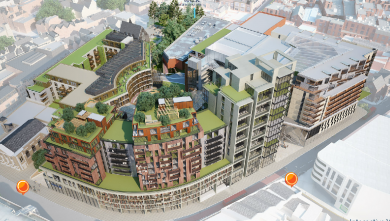 Redeveloped site will provide over 400 homes in a crescent and new sky restaurant around a circular central square
The Eden Walk Shopping Centre was built in the 1960s, and is currently home to a multi-storey car park, 28 retailers and cafés, and office space but is in long-term decline.
It is hoped the new scheme will breathe new life into the town centre, helping to counteract the pull of Westfield in Hammersmith, the West End in London and Guildford
Aaron Morby | Thu 29th October | Construction Enquirer
Previous Articles