B&K starts first spec office job in Sheffield for year
(blank)
01-Aug-14
Bowmer & Kirkland has started work this week on the first speculative office scheme in Sheffield since the 2008 financial crisis.
The 10-storey 3 St Paul's Place project is the final part of the £130m Heart of the City project.
The £20m office building is being developed by CTP and Development Securities with Sheffield City Council, which helped to secure European regional development funding.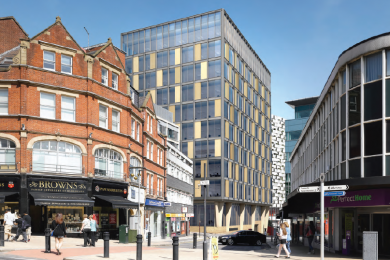 David Topham, director of Manchester developer CTP, said: "We are delighted to be working with Bowmer & Kirkland again. They have a proven track record of completing projects on time and within budget."
Steve Chambers, Bowmer & Kirkland regional director, added: "Having constructed Office 2 and St Paul's hotel we feel privileged to have been involved in a large proportion of the Heart of the City development.
"It is a pleasure to be working with CTP, Development Securities and Sheffield City Council again on this landmark building."
Aaron Morby | Wed 30th July | Construction Enquirer
Previous Articles