British Land unveils second Broadgate rebuild job
(blank)
26-Jan-15
Developer British Land has submitted detailed plans to refurbish and extend another major building in London's Broadgate development.
The 100 Liverpool Street Exchange Square building overhaul will see three new floors built taking the total office and retail space up to around 515,000 sq ft.
Under the proposed plans, the extra 135,000 sq ft will include a 9th floor of the building featuring a restaurant with external terracing.
The designs by Hopkins Architects will retain the buildings' structural frame and use gently curving facades to give the buildings a fresh new identity.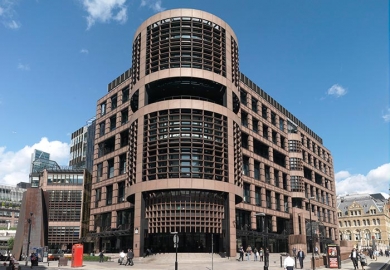 Existing building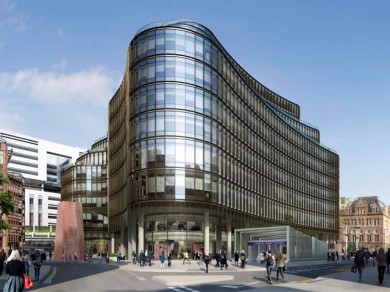 New building will be raised by a further three floors
The proposal also improves the connections and public space between 100 Liverpool Street, Liverpool Street Station and the Broadgate Circle.
This development forms part of British Land and GIC's long-term vision for Broadgate.
Presently Mace is carrying out construction of 5 Broadgate and the Broadgate Circle is being redeveloped with completion on both expected within the next few months.
5 Broadgate is fully let to UBS, and the new retail units at the Broadgate Circle are over 97% pre-let or under offer.
Tim Roberts, Head of Offices, British Land, said: "We have put forward a proposal for an innovative refurbishment of 100 Liverpool Street which we believe will appeal to a wide range of occupiers.
"This is an important part of our broader plan to re-position Broadgate to meet the changing needs of a growing and dynamic market place. The demands on this area of the City are changing with the regeneration of nearby Shoreditch and we are focused on evolving the Broadgate campus to match these needs."
Aaron Morby | Wed 21st January | Construction Enquirer
Previous Articles