Carillion left as sole PF2 bidder for £350m Midland Hospital
(blank)
16-Apr-15
The Laing O'Rourke-Interserve consortium has suddenly dropped out of the bidding for the first hospital to be built using the PF2 model.
The decision to withdraw from the race for the Midland Metropolitan Hospital leaves Carillion as the sole bidder some six months before last and final bids were due.
Sandwell & West Birmingham NHS Trust said that the procurement process would continue to the same timetable even though one firm was left to price the £350m, 670-bed hospital.
Construction of the new hospital is expected to start in 2016 and be completed by 2018-19.
The Midland Metropolitan Hospital will be located in Smethwick, close to the boundary between Sandwell and Birmingham on a derelict industrial estate in Grove Lane.
It is likely to be 8 storeys high with around 670 beds providing capacity for around 107,000 inpatients and 120,000 outpatients each year.
Balfour was originally picked as a shortlisted bidder but dropped out of the running several months before shortlisting to two preferred firms.
The decision to pull out comes after Laing O'Rourke last month signed financial close on a £200m deal to build a new hospital in Dumfries, being procured under the Scottish Government's non profit distributing model.
The Trust said its expects that bidders will comply with BIM level 2, but would prefer that BIM level 3 is achieved.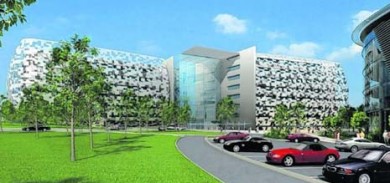 Aaron Morby | Wed 15th April | Construction Enquirer
Previous Articles