Farrans/Buyck jv set for £83m Wear Crossing
(blank)
07-May-15
A joint venture between Northern Ireland's Farrans and Belgian steelwork specialist Victor Buyck has been picked as preferred bidder for the Wear Crossing.
An official announcement has been delayed by the General Election, but the local council has decided on the team it wants to design and build a new road bridge across the River Wear.
The duo fended off international bids from Spanish group FCC and a Hochtief (UK) Construction/Dragados joint venture.
Sunderland's new bridge and its approach roads will link the strategic transport corridor from the Port of Sunderland, through the city centre, past key riverside regeneration sites and out to the A19.
It is expected to be an A-frame cable-stayed design and will cross the River Wear between Castletown on the north side to Pallion on the south.
It will have two lanes of traffic in both directions and dedicated cycleways and footpaths along its full length.
Subject to the decision-making processes, including final Government approval for £82.5m funding, works are anticipated to start later this year.
Sunderland City council was forced to abandon a previous plan to build Britain's tallest bridge with iconic independent curving pylons last year after costs started to rocket.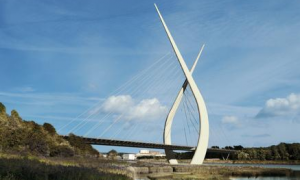 Contractors also shunned the ambitious scheme warning the project design was too high-risk a build for the £120m budget.
The main issue was the risk associated with building independently curved free-standing bridge pylons.
Aaron Morby | Thu 30th April | Construction Enquirer
Previous Articles