Go-ahead for £2bn New Covent Garden Market scheme
(blank)
13-Nov-14
Joint venture development partners Vinci and St Modwen have gained planning for the £2bn regeneration of the New Covent Garden Market site in central London.
The plans with the Covent Garden Market Authority will lead to the transformation of the 57-acre site situated next to Vauxhall Cross in the Nine Elms regeneration zone.
The multi-phase scheme will take 10 years to build and includes development of 550,000 sq ft of modern facilities to house the 200 businesses that make up the UK's largest fruit, vegetable and flower market.
Construction work will be funded from the release of 20 acres of surplus land for a residential led mixed-use regeneration scheme.
Much of this will be built on a separate site joined by a 1km linear park. In total more than 3,000 new homes and 135,000 sq ft of new office space and 100,000 sq ft of retail and leisure will be built.
Development work on the new market will commence in 2015 and on the first phase of the surplus land in 2017.
Vinci Construction UK has been earmarked to construct the new market, with other firms likely to be brought on board to build the later housing projects.
Project team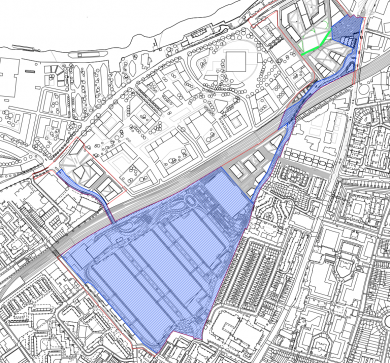 Architect: Skidmore Owings & Merrill
Structural Consultant: Hyland Edgar Driver
Quantity Surveyor: Gleeds
Mech & Elec Consultant: Hoare Lea
Market contractor: Vinci Construction UK


Separate northern site in Nine Elms integrates a mix of residential towers and low rise buildings and will be linked to the market by a 1km linear park


Part of the main market site will also provide housing and residential
The developers have agreed to pump £91m into local infrastructure improvements.
The money will be spent on a series of local transport upgrades including the now approved Northern Line Extension.
There will also be a £300,000 contribution to providing Barclays cycle hire docks and bikes. Ten annual contributions of £150,000 towards the council's local employment scheme, a total of £1.5m.
A roof top sports pitch and a 'community use' agreement to guarantee local access.
Sarah McDermott, chairman of the council's planning committee, said: "This project covers five distinct development plots, the largest being the new wholesale market itself which will be overhauled to provide a 21st Century trading space for the food and flower businesses.
"The current flower market site would make way for a series of new buildings including three towers which will form part of the Vauxhall tall building cluster."
Aaron Morby | Thu 13th November | Construction Enquirer
Previous Articles