Green light for Berkeley's £615m White City scheme
(blank)
22-May-15
Berkeley Group developer St James has secured a resolution to grant planning permission from the London Borough of Hammersmith & Fulham for its vast 1,465-home White City scheme in West London.
The 10-acre Marks & Spencer warehouse site will be transformed into a residential neighbourhood set in a new 4 acre public park known as White City Green.
This open space will be fully funded by St James and provide opportunities for a range of leisure and recreational activities and events.
The whole development aims to deliver new homes, along with commercial, office, community and leisure space. It will bring £615m of investment, create 620 jobs in construction, and deliver just over 30% affordable housing on and off site.
A new bridge and pedestrian deck across London Underground's Central Line will give direct access to the Westfield London shopping centre to the south.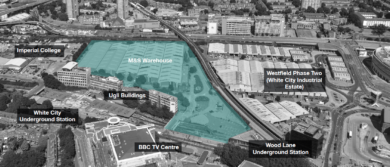 The Marks and Spencer warehouse is due to be vacated in July 2016 and construction is planned to start at the earliest opportunity.
St James will deliver the scheme in several phases over a 15-year period.
Aaron Morby | Fri 22nd May | Construction Enquirer
Previous Articles