House builders seal £40m Cambridge Uni new town deal
(blank)
15-Jan-15
The University of Cambridge has awarded contracts to house builders Countryside and Hill for 400 market homes on the North West Cambridge Development.
All the market homes as well as the 700 University key worker homes in the first phase of the development will be designed to meet the Code for Sustainable Homes Level 5.
They will be integrated into the Sustainable Urban Drainage System, including the UK's largest non-potable water recycling system.
They will also be linked a district heating network and make extensive use of photovoltaics.
Hill, working with Pollard Thomas Edwards and Alison Brooks Architects, and Countryside, working with Proctor and Matthews Architects, will deliver a mix of housing types, including apartments, terraces, semi-detached and detached houses for the scheme.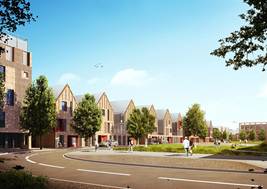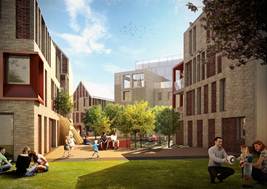 Countryside competition design proposals for the North West Cambridge Development. Images: Proctor and Matthews.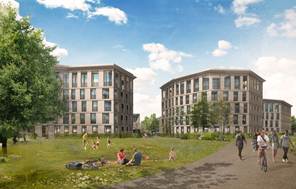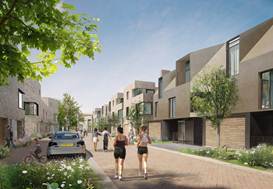 Hill competition design proposals for the North West Cambridge Development. Images L-R: Alison Brooks Architects and Pollard Thomas Edwards.
Brian Nearney, Commercial Director of the North West Cambridge Development said: "Our partnerships with Countryside and Hill mark another major chapter in development.
"Both developers have demonstrated to the University that they will create new homes that will meet our objectives of sustainable living and exemplar design. We look forward to working with them in delivering this new quarter of the City."
Bidwells has been working with the University as development advisors to the North West Cambridge Development.
Brian Buckingham, Partner of Bidwells said: "It is exciting to have worked with the University to secure two strong local developers from the competition to deliver the market housing – they will set the benchmark for the quality of homes for the later phases of the scheme and underpin the ambitions of the University to create a long-lasting place."
The designs will be subject to reserved matters applications to the local authorities in 2015.
The North West Cambridge Development masterplan includes 3,000 homes – 50% 'key worker' housing, available for qualifying University and Colleges employees – 2,000 post-graduate student spaces, 100,000 sqm of research space, a local centre and community facilities including a primary school, nursery, doctors' surgery, supermarket and retail units, as well as all of the site-infrastructure and landscaping for the scheme.
Aaron Morby | Tue 13th January | Construction Enquirer
Previous Articles