Mace to start London Elephant & Castle resi tower
(blank)
05-Nov-14
Mace will start work in January on the next major tower project at London's £3bn Elephant & Castle regeneration scheme.
London Mayor Boris Johnson, with developers Mace and Canadian residential operators Realstar, has confirmed work is to begin on the 457-home Newington Butts project.
The site is owned by the Greater London Authority and will become one of the largest long-term rental developments in the capital when finished in 2018.
Homes in the 44-storey tower, designed by Rogers Stirk and Harbour, will be available on long leases and will mirror similar style longer-term rental apartments in large cities in the US.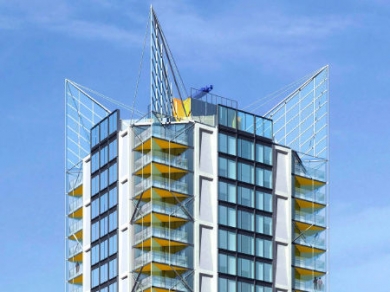 The tower will also include a new theatre space for the Southwark Playhouse and a café as well as retail and marketing space.
The Newington Butts site was among 670 hectares of surplus public land taken on by the Mayor in 2012, more than 85% of which has now been moved into the development pipeline.
The new development will include 179 low cost homes for rent and shared ownership, being delivered by social housing provider Peabody.
The project bears a strong resemblance to the One the Elephant housing block being built by lend Lease.
In September, the Mayor announced two further Greater London Authority owned sites, Silvertown Way in Canning Town and Pontoon Dock in Newham which are now being brought forward for institutionally backed private rented sector homes.
Chief operating officer of Mace Investment, David Grover, said, "Since Mace was selected as the GLA's partner for Newington Butts, we have been working through the options for this complex project to deliver much needed housing for the capital.
"We are now able to move forward and deliver an iconic piece of real estate, which will be a strong addition to the London skyline, reinforcing the capital's position as a major city in the world to live in and work."
Aaron Morby | Mon 3rd November | Construction Enquirer
Previous Articles