Moda finds backer for £1bn regional cities PRS plan
(blank)
15-May-15
West Yorkshire's Moda Living is teaming up with Middle Eastern investor Apache Capital Partners to build private rental schemes in the UK's major cities.
Moda Living – itself formed from a joint venture between Yorkshire developer Caddick Group and Harrogate's Generate Land – will work with Apache Capital to deliver more than 5,000 flats worth £1bn.
The partners will focus on regional cities where population growth of young professional is expected to drive rental growth. The ambitious pipeline would make the joint venture the largest owner of regional purpose-built PRS and one of the largest owners of PRS overall in the UK.
Its first scheme will be Moda's plan for a 36-storey tower of 458-homes at Angel Gardens in Manchester, located in the centre of the Co-operative Group and Hermes' 20-acre NOMA masterplan.
Angel Gardens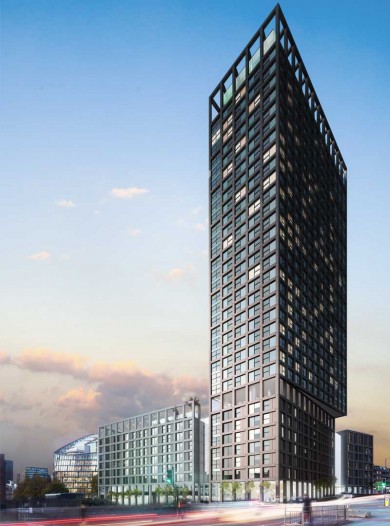 Angel Gardens already has planning and will consist of 530,000sq.ft including two levels of underground parking offering 149 car spaces.
The tower will be clad in black oxidised copper whereas the low rise elements will be of precast concrete to the outward-facing elevations and a mixture of concrete and brass to the courtyard frontages.
Buro Happold is the structural engineer
Johnny Caddick, director of Moda Living, said: "Traditional views on renting are changing and more people are looking towards PRS for long-term tenure.
"With this in mind Moda Living's aspirations are to create lifestyle developments that focus on putting the tenants – our customers – at the heart of the concept."
Richard Jackson, co-founder and managing director of Apache Capital Partners, said: "At Apache Capital, we have seen a strong demand from our Middle Eastern investors in the UK's Private Rented Sector.
"This is partly because PRS is already an established sector in the region, the sector's continuing supply/demand imbalance in the UK, but also coupled with the prevailing lifestyle shift toward flexible living that delivers high quality amenities and services."
Aaron Morby | Fri 15th May | Construction Enquirer
Previous Articles