Skanska confirms £300m AstraZeneca HQ job
(blank)
20-Feb-15
Skanska has confirmed it has signed a £300m contract for the construction management of a research and development centre and corporate headquarters in Cambridge.
As tipped by the Enquirer, the deal with pharmaceutical giant AstraZeneca is the biggest of a series of major contract wins around the city, including the £165m Papworth Hospital.
Enabling work has started on the purpose built facility, which is located on the Cambridge Biomedical Campus.
It will become the company's largest centre for oncology research, as well as housing scientists focused on cardiovascular and metabolic diseases, respiratory, inflammation and autoimmune diseases and conditions of the central nervous system.
The site will also be home to a joint research centre, which will see Medical Research Council-supported researchers working side-by-side with AstraZeneca's high throughput screening group.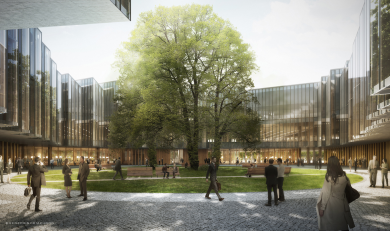 Internal courtyard of HQ building
Aaron Morby | Wed 18th February | Construction Enquirer
Previous Articles