Upbeat all-industry trade survey
(blank)
22-May-15
The construction industry has just enjoyed its eighth consecutive quarter of growth with all sectors of the industry now in full recovery.
The latest all-industry trade activity survey shows major contractors, specialists, small builders and materials producers are all enjoying rising output and orders.
Rises in activity during the first part of the year were strongest in the private housing, commercial and infrastructure sectors, reflecting economic growth, a broadening of activity beyond the South East and the pipeline of work in the National Infrastructure Plan.
The upbeat mood of the industry outshines recent gloomy official ONS figures, which have pointed to a slowing in the construction economy since the start of the year.
Looking ahead to the next 12 months, growth in new orders was reported by the majority of civil engineers and sales expectations for product manufacturers point to continued momentum.
For smaller contractors and specialist contractors, new work enquiries improved after the weakness displayed at the end of 2014, but order books for large contractors decreased in all sector outside of private housing and private commercial.
The only cautionary warning came from large and medium-sized building contractors which are warning profit margins are under pressure again from a tide of rising labour and materials costs despite rising tender prices.
Half of large contractors reported increased tender prices in Q1, but 11%, on balance, experienced falling profit margins.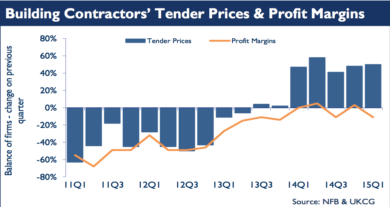 Aaron Morby | Wed 13th May | Construction Enquirer
Previous Articles