Work to start on Manchester's second Beetham tower
(blank)
30-Oct-15
A sister skyscraper to Manchester's landmark Beetham Tower will finally be built more than three years after plans were first approved.
Bolton-based Forshaw Land & Property Group, which bought the River Street site from previous developer Chelmer, is preparing to demolish an abandoned part-finished concrete frame ahead of work starting on a new 42-storey residential tower.
Resurrection of the plan offers a potent symbol of surging economic confidence in Manchester as schemes take off around the city.
Following the completion of enabling works, main construction of the 125m tower is expected to start midway through next year, after Manchester planners gave the green light last week to amendments to the previously approved plans.
The new block at River Street and Mancunian Way will house 400 private rented apartments.
Once finished it will stand a little shorter than the 47-floor Beetham Tower, which rises to 169m.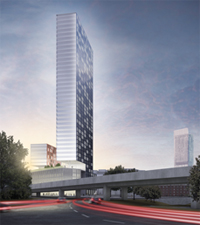 The Manchester-based team advising Forshaw includes Beetham Tower architect SimpsonHaugh and Partners, cost consultant AECOM and engineer WSP.
Aaron Morby | Thu 29th October | Construction Enquirer
Previous Articles